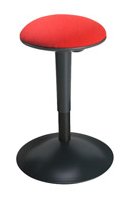 I play fake drums in Rock Band and have a great time with it. Problem is, my dining room chairs aren't great for drumming. They're a little low and generally bulky compared to what I need when I'm rocking out. I ended up finding the "Vitamin" stool at Ikea and it's perfect.
Adjustable height.
Comfortable seat.
Tolerant of the need to lean forward or backward (at least if you're playing on carpet) - underneath the bottom is sort of angled on the edges.
Plus, it's pretty reasonably priced. If you're looking for a good drummer stool, grab yourself one of these.