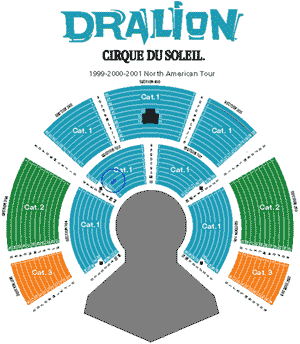 Guess where I'll be tonight! That's right, Jenn and I have tickets for the 9:00p showing of Cirque du Soleil's traveling show, Dralion. I saw them last time they were in town with their Saltimbanco show and also twice in Vegas I saw their Mystere show. All of them were brilliance, and I look forward to tonight's performance. Jenn's never seen them, so she's excited, too. We have pretty good seats, too, which makes it all that much better.
My copy of Real Genius didn't come yesterday, so I have to assume today's the day. I was all excited to see it, and now I've gotta wait until this weekend.
Speaking of this weekend, my friend Aarron's coming into town and I think I'm going to try to convince him that we need to go see The Bourne Identity. It looks too cool, and it's got Franka Potente in it, which makes it all that much better. She was great in Run Lola Run, so I expect she'll be great here, too. (Oh, and Run Lola Run had a pretty bitchin' soundtrack, to boot.) So we might check that out. Jenn wants to see it, too.
Aside from that, I'm hoping to take it easy. After painting our living room, our place is in a shambles, so I'm sure there will be cleaning up to do, but the weather's supposed to be nice, so maybe I'll try to take advantage of it. Somehow. Not sure on how yet, but I'll figure it out when I get there.