It was raining this year and I think that put a damper on the trick-or-treat count. We also didn't put out our "Halloween projector" that puts a festive image on our garage, so I think the rain, combined with lack of decor, resulted in quite a bit fewer kids showing up. When it was busy, it was really busy; but when it wasn't… it was dead.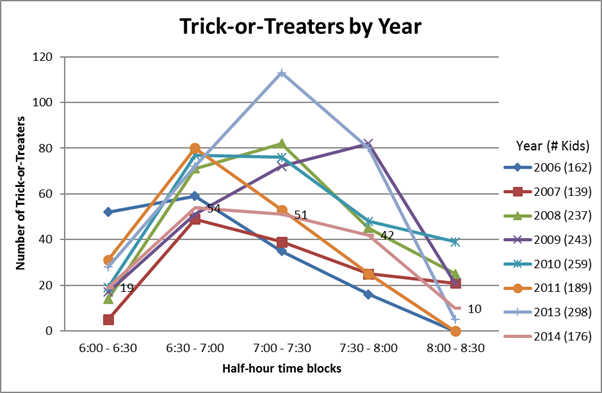 The graph is starting to look like a big mess so I will probably start keeping more like "the last five years" on there. I'll also keep an overall average graph to keep the bigger picture.
The table's also starting to get pretty wide; might have to switch it so time block goes across the top and year goes down.
Cumulative data:
Year
Time Block
2006
2007</th>
2008</th>
2009
2010
2011
2013
2014
</tr> </thead>
6:00p - 6:30p
52
5
14
17
19
31
28
19
6:30p - 7:00p
59
45
71
51
77
80
72
54
7:00p - 7:30p
35
39
82
72
76
53
113
51
7:30p - 8:00p
16
25
45
82
48
25
80
42
8:00p - 8:30p
0
21
25
21
39
0
5
10
Total
162
139
237
243
259
189
298
176
</table> My costume this year was the Tenth Doctor from _Doctor Who_. Jenn was Anna from _Frozen_. We both made our costumes and [I posted a different blog article walking through how I made the suit](/archive/2014/11/05/making-my-tenth-doctor-suit/). Phoenix decided she was going to be Sleeping Beauty this time, which was a time-saver for us since she already has a ton of princess costumes. ![Travis and Jenn](https://hyqi8g-ch3301.files.1drv.com/y2pgj3Dz3hKaw8KDWRL0zpdp7XPEDIB2qX7nLr2W3U7ZB19kvmPql7fHMDWHLIDC5orV7AzK1I2CaGQ1ryZ7J_Q30Wk0E-zt9whfmhcuBzU8Ek/20141103_costumes.jpg?psid=1)