We saw a huge increase in the trick-or-treat count this year compared to the previous years we've tracked.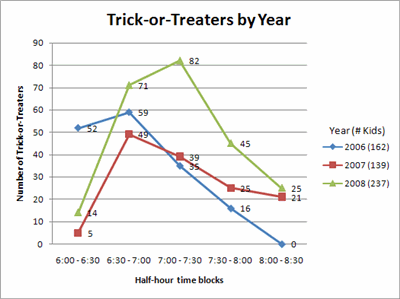 Usually in the 7:00 - 7:30 pm time block we see a decrease in trick-or-treaters showing up; this year we saw a huge increase. We again ran from about 6:00p to 8:30p and that seemed to encompass the majority of visitors. There may have been some folks we missed pre-6:00p, but we had quite a lull after about 8:20p so shut it down at 8:30p.
Lots more little kids this year compared to last year, where we saw average age increase.
Halloween was on a Friday this year and I think that contributed to the increase in visitors. More parents willing to take their kids out for longer if they don't have to get up early the next day.
We got the animated Halloween projector running and showing a "Happy Halloween" message on the garage, which I think contributed to the number of visitors. A more festive atmosphere increases interest.
This is the second year for the new daylight saving time change due to the energy bill that passed, but I don't think it affected the trick-or-treat count.
Around the 7:00p time we ran dreadfully low on candy. With about 15 pieces left, Jenn hopped in the car and headed to the store, at which point a tidal wave of kids showed up and drained me of the last of the candy. I raided the cupboards and subsequent visitors drained me of all of my Indiana Jones fruit snacks and small packets of Swedish Fish that I nabbed from the candy jar at work. By the time Jenn got back (only 15 minutes later) I was into handing out my stash of chewy ginger candy, which is pretty spicy stuff that I'm sure caused some surprised faces on a few youngsters. (Sorry, kids, it's all I had!)
I had a few favorite costumes that came by, but the three most memorable:
A kid of unknown age had a huge homemade fabric garbage can costume. A great costume by any count, but I had to ask where to put the candy since there were no arms, bags, or other receptacles. The garbage can rotated 90 degrees and a little flap opened with a hand poking out - "Put it in my hand."
A middle-school aged kid was a Lego brick made of cardboard and paper. Really accurate - six Lego studs hanging out of the front, the whole thing to scale… but no arm holes, so his dad was carrying his candy bag.
A high school kid with a banana costume, a backpack, and a plastic knife. Normally I don't like handing candy out to older kids, but when a banana shows up and yells, "I'm a banana! Put the candy in the bag!" I was dying laughing. You win - here's your candy.
A banner year for trick-or-treaters this year. Next year I'm considering doing more than just the projector on the garage. I think Halloween falls on a Saturday next year, so I anticipate even more trick-or-treaters.