I finally wore out my original Rock Band drums last night: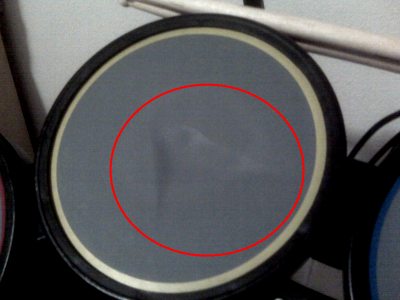 The shadow I circled in the picture above is actually a big dent in the pad. The underlying plastic is broken and the only thing holding it together is the rubber liner on top of the pad. Lame.
I'm seriously considering picking up the Ion Drum Rocker as a replacement since I've heard nothing but good about it, but I've also heard I should try out the new Guitar Hero: World Tour drum kit first. I have a party I'm going to in a couple of weeks where I'll have a chance to try the GH drums, so I'll wait until then to make a decision. Honestly, right now… those Ion drums are looking goooood.