190 Trick-or-Treaters
This year we had 190 trick-or-treaters. This amount is about average for us.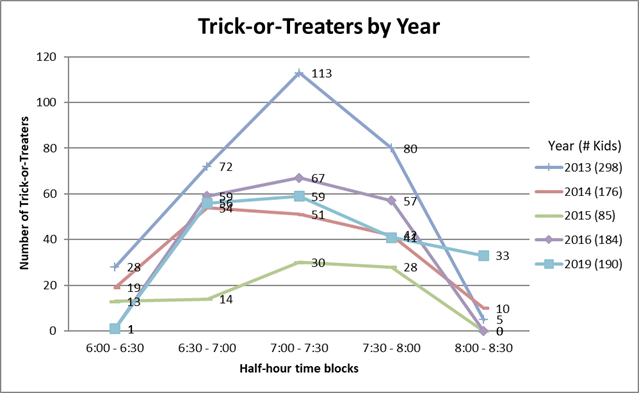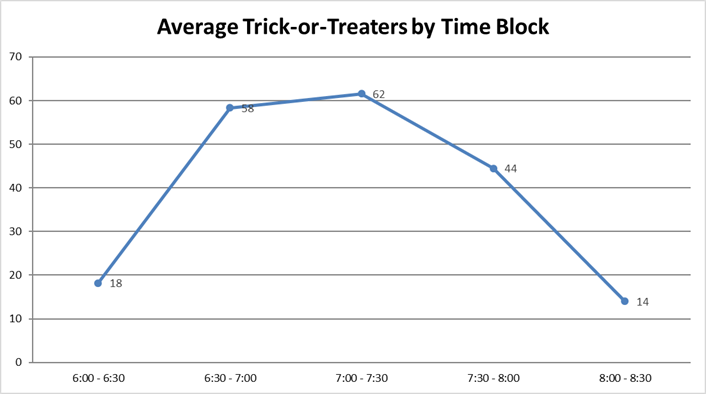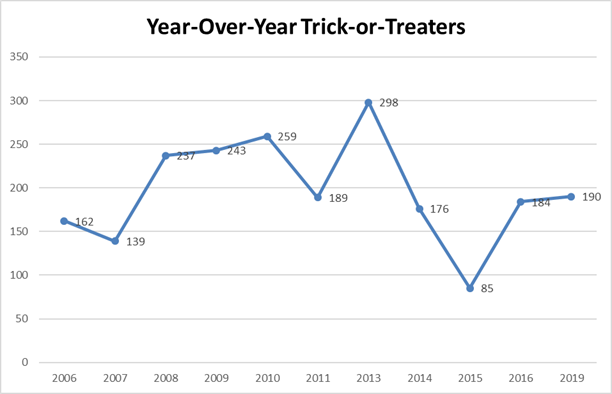 Halloween was on a Thursday and the weather was fairly clear. We had some friends come over so there was a small group who went out walking the streets for candy and another small group who stayed home and handed out candy. I was in the "stay home" group.
I noticed I don't have 2017 or 2018 data.
In 2017 we were doing a fairly major downstairs remodel and didn't hand out candy. There was a bunch of construction stuff in the driveway that we didn't want kids getting into or trying to scoot past.
We did hand out candy in 2018 and I'm sure we tallied it but I have no idea where that tally went. I didn't even blog my costume from last year (I went as Doctor Strange). My mind is going.
Cumulative data:
Time Block
Year
6:00p - 6:30p
6:30p - 7:00p
7:00p - 7:30p
7:30p - 8:00p
8:00p - 8:30p
Total
2006
52
59
35
16
0
162
2007
5
45
39
25
21
139
2008
14
71
82
45
25
237
2009
17
51
72
82
21
243
2010
19
77
76
48
39
259
2011
31
80
53
25
0
189
2013
28
72
113
80
5
298
2014
19
54
51
42
10
176
2015
13
14
30
28
0
85
2016
1
59
67
57
0
184
2019
1
56
59
41
33
190
Our costumes this year:
Jenn: Forky from Toy Story 4
Phoenix: Bo Peep from Toy Story 4