On A Mission For Nathan's Famous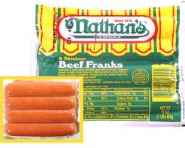 I subscribe to Consumer Reports and yesterday they sent out a review of hot dogs so folks would know the best kind of dog based on flavor, cost, and… uh… "health content" in preparation for summer BBQs.
Hebrew National was rated the best, with Nathan's Famous coming in a close second.  Now, I've had both, and while I like both, there's just something about a good Nathan's Famous dog that I can't get over.  It's sort of like how Krispy Kreme donuts are just… better.
Anyway, that put me in a pregnancy-style craving for hot dogs.  Nathan's Famous hot dogs, to be specific.
After work, Jenn and I went on a mission.  A mission for Nathan's Famous.  Unfortunately, there are no Nathan's Famous restaurants in Oregon, so we had to search out the version you buy at the store (which is also excellent, but doesn't offer quite the atmosphere of the actual shop).
Costco - no luck.  I could have sworn I saw them there at one point, but not today.  Fred Meyer… aha!  There they are, sort of unobtrusive in the refrigerator case.  Come to me, sweet dogs.
Fired up the grill at home, threw the dogs on, and watched the flame fizzle out after about three minutes of cooking because we were out of gas.  Not to be stopped, the franks made their way quickly into the oven to be broiled to perfection.  (I can't stand boiled hot dogs.  Seriously.  No go.)
I ate two, but I swear I could have eaten the whole package.  I'll definitely be partaking this weekend (after refilling the grill tank).
When was the last time you went on a mission for food?