Stepped Up to PSP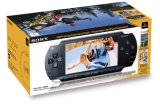 After thinking about it for a while and talking about it for, like, a year or more, I finally stepped up and bought myself a PSP (PlayStation Portable).
I realize I'm a little late to the show on this one, but it's pretty bad-ass. The screen is nice and crisp, no dead/stuck pixels (that I've found so far), and I've got a couple of games for it that are pretty neat.
I actually ended up with it since I'm going to be taking a couple of trips soon (Vegas this weekend, Aruba for the honeymoon) and want to watch some movies and play games on the flight. I figured, for the price, as a portable game and media platform, it can't be beat. Plus the package I got was pretty good for all the extra stuff you get.
Now I just need to get a protective case and I'm set to go.