My Glasses Are Too Big
With our new dishwasher in the house, we no longer have the problem where our cups and glasses get "etched" because of crappy wash cycle, so we decided to get some new glasses.
I love huge glasses. Like, pint or larger is perfect. We found a set of pub glasses at Linens 'N Things that are 20 oz. glasses. Love it. We threw 'em in the new dishwasher, washed 'em, and they look spectacular.
Got one out to use it for the first time last night. We have one of those refrigerators that has the water in the door. I wanted a glass of water. Pub glasses to the rescue!
Turns out, maybe these glasses are a little too big. Here's a diagram (not to scale) of what I'm talking about.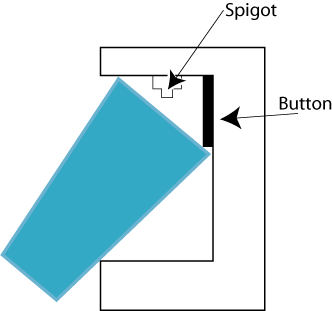 No matter how I twist or turn that thing, I can't get it in the door far enough to hit the button to get the water out. I actually have to reach my finger in there to depress the button.
I suppose that's a small price to pay, but I won't say I'm not a little peeved. I didn't consider having to buy glasses based on the size of the opening in the refrigerator door. Bah!