Using a Headphone Amp: Worth It?
I listen to a lot of music at work and thought it'd be nice to have a decent setup for that. I'm not what you'd refer to as an "audiophile" so much, but I have an opinion and I know what I think sounds good vs. what I think doesn't sound good.
Listening to low-bandwidth streaming audio off my phone with $10 Bluetooth headphones is not good.
Decent headphones with my iPod Classic playing lossless directly is pretty good.
My first step was getting some decent headphones. Not being, as I said, an audiophile, I went with some good-bang-for-the-buck Sony MDR7506 over the ear headphones.
That was a definite improvement, but then I started looking at amps.
Headphone amps are expensive. Wow. In my opinion, most times it's unjustifiably expensive like when you see the $1000 HDMI cable that you know won't outperform the $6 version.
Anyway, I started looking at these things and realized… I need to take it a little slower. I'm not interested in dropping $100 on something I don't know is going to make a difference. But I could dip my toe in the pool for, say, under $50 and see what the fuss is about, and if I really do like it maybe step up at some later time.
I picked up a DIY 6J1 tube preamp kit for $15 off wish.com both as a step toward this and as a fun little project. I like putting stuff together and I figured, why not? To be clear, I know this isn't a super high-quality deal, but it's at the right price point and will at least tell me if I like it.
Anyway, this particular preamp is said to "make the sound more warm." It doesn't help the volume, it's more like it just changes the sound coming in. Sooo….
I also got a Behringer HA400 amplifier. That's the thing that will help with the volume.
All put together, here's the whole setup: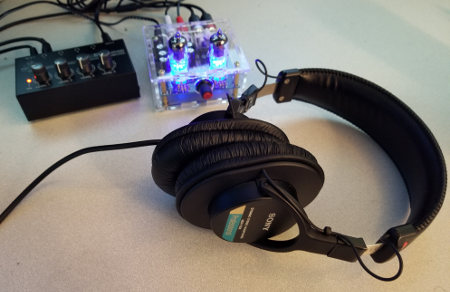 My audio source (phone, iPod, whatever) runs into the 6J1 preamp, then into the HA400 amp, then to the headphones.
It sounds pretty darn good.
I've done some totally non-scientific testing:
Plug headphones directly to audio source (bypass the amp setup)
Headphones to HA400 to audio source
Headphones to HA400 to preamp to audio source (the whole amp setup)
I listened to a few different songs, somewhat arbitrarily chosen yet representative of the sort of thing I listen to more often than not:
I listened to others throughout the day, these are just ones I started with and tried A/B testing with.
Notes:
I definitely notice a difference in the sound between when the 6J1 preamp is in place vs. when it's not. I guess that's the "warmth" of the sound. It sounds to me like it's a bit of bass boost and maybe a bit in the mid area as well. I wonder if you could accomplish the same thing with a decent graphic equalizer.
If you have the preamp, you definitely need the amp. Running through the preamp without the amp reduces the volume/power enough that you have to max out the volume on the source and the preamp to get back to a standard listening level.
The tubes that came with the DIY kit were crappy and introduced a lot of buzz so I had to replace them. I got some $1 replacements, none of this "tested audio matched pair" crap. Maybe those would be even better, but the replacements cost me a total of $2 and removed the buzz. There's still a weird spot where there's a very light buzz when the preamp is turned to exactly 50% power. I dunno. Fine. Turn it up a little and it goes away.
The amplifier by itself really doesn't do anything but add volume. It doesn't process the sound in any way. I didn't expect it to, but, you know, to be clear, just having an amplifier doesn't really do anything. It's the preamp that changes the sound.
I think I'd like to try one of these more expensive all-in-one units where the preamp and amp are all in the same box, but I'll admit I'd go in a bit biased. I paid about $40 for my setup and it sounds good enough for me. I can't imagine the difference in sound would be enough to justify $100 or more.