Tears for Fears at the Oregon Zoo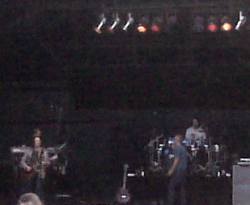 Saturday evening Jenn and I went to the Oregon Zoo to catch the Tears for Fears concert. I gotta say, it was awesome. Hearing the hits played live was so cool - the crowd singing along to "Head Over Heels," dancing to "Shout," and getting back to the original "Mad World" was not to be missed.
Michael Wainwright opened, played a nice set, and then joined Tears for Fears to round out vocals. He was a great "Woman In Chains," I have to say. :)
The weather was totally agreeable - nice and sunny, in contrast to our B-52s outing. We kicked back, relaxed, ate an elephant ear, and took in the music. If you get a chance, see these guys live. If they come back, I'm there.