Birthday In The Lost Room
We celebrated my 31st birthday this weekend.
On Saturday, a small group of folks got together with me and we went to Ultrazone to play laser tag.  It was quite a bit of fun, and a slightly different setup than other places I've played laser tag, so it was a neat change.  I'll definitely have to go back there again.  After that, about half the folks came back and we had a barbecue at my place.  Jenn got me a tasty mint chocolate chip ice cream cake from Cold Stone.  I don't think I'd ever had an ice cream cake before, and it was great.
Sunday my parents came over and took us out for lunch at Buffalo Wild Wings and then to see Live Free or Die Hard.  Lunch was great, and the movie was actually a lot better than I expected.
The idea behind Live Free or Die Hard is, basically, that a hacker is trying to take down the entire country by shutting down anything run by computers.  Basically.  Now, I won't lie and tell you that you can go in and not have to work to suspend your disbelief - you're going to have to take some stuff on faith.  At times, you will find yourself laughing at how ridiculous some of the situations are.  That said, it's a lot of fun, and I never once felt like I needed to look at my watch and see how much longer it was.  It's a fluff piece, a great thrill ride, and if you go in understanding that, you'll have a blast just like I did.  Plus, they give some little rewards to the Die Hard fans out there, what with the daughter, Lucy, showing up.  (Remember her on the first movie?)  Anyway, see it and have fun.
My dad also made me a really cool Lost Room gift box.  If you haven't seen The Lost Room yet, definitely do - it was fantastic.  Anyway, he went to the trouble of cutting out all of this perfectly fitting foam to package up a copy of the DVD, prop replicas of the bus ticket and the pen, and an actual room key he got from a collector on eBay (so, no, it's not a prop replica, nitpickers; it's from a real hotel room, not the Lost Room).  It's super cool - check it out: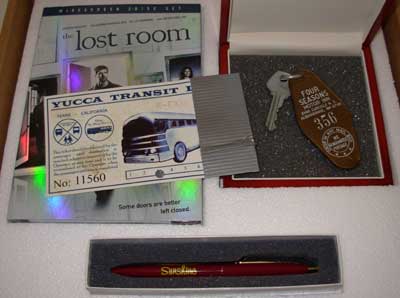 I'm stoked - it was awfully thoughtful and a lot of effort went into it.  Very cool.
So I'm 31 now, and… well, it's not much different from 30.  A bit more experience under my belt (along with, probably, a few more pounds).  A lot of life change since 30.  I sense more change on the horizon, but I guess as a friend once told me, "life is change."  We'll see what the future holds.