Tori's Wedding
I've taken a loooong weekend, from June 30 - July 5, for a couple of reasons. The first is my sister's wedding. The second is fireworks… but that'll be a different entry.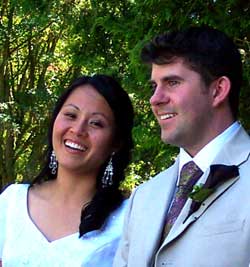 My sister Tori was married to a fellow named Brandon on Saturday, July 1. The ceremony was held in the Mormon temple in Bellevue, WA, so I didn't actually get to see it. Instead, Jenn and I made the three-and-a-half-hour-each-way trip up and back on Saturday to be at the reception, also held in Bellevue, on Saturday afternoon.
Friday (the 30th) was Jenn and I getting things done so we were ready for the trip Saturday.
Saturday around 11:00a we left so we could be there at 3:00p for pictures (and maybe stop on the way for something to eat). We got there in time to have some lunch at Burgermaster (Jenn's first time!) and did, in fact, make it for the pictures.
At the reception we got to meet a lot of Brandon's family and we saw a few folks from ours that we don't normally get to see, which was good. It was hot, so we mostly tried to stay in the shade, but there was a nice garden setup with some tables and such in shady areas, so Jenn and I relaxed and enjoyed the festivities.
At about 6:30p, the reception was over, Tori and Brandon left, and Jenn and I were once again on the road for a long drive home. We got home a little after 10:00p.
Congratulations, Brandon and Tori!