Wonka Jacket Possibility Back Open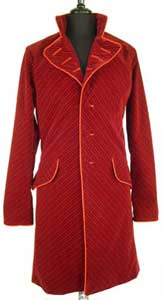 Just got word from Redballs - they're going to have more of the red Wonka jackets in mid-September. Perfect! I'll hang on until then (which is closer to my budgetary timeline anyway) and get the 2XL. That should save me hella time and money compared to making the thing.
UPDATE 10/02/05: The costume came out well. Here are the details.